Citygen : The Application (svn rev 92)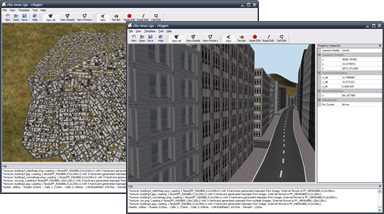 Citygen is available for evaluation. I would appreciate any feedback on how you think citygen can be improved or any details on your experience with the application. To get in touch just use the contact form.
Citygen  -  7-Zip Archive (5.45MB)
Citygen  -  Zip Archive (7.83MB)
Downloads have been suspended. This project was carried out as part of a research masters and as a result the code I developed belongs to
ITB
. If you would like to evaluate the application, you can try contacting my supervisor
hugh.mccabe@itb.ie
.
Notes:
- To import the exported Cities into 3DSMax or Maya download and install the COLLADA plug-ins from here:
http://sourceforge.net/project/showfiles.php?group_id=136478
 - ATI Xn00 users with Catalyst 7.12 - 8.4 the terrain may appear white. This appears to be a driver bug, I am awaiting confirmation.
Change Log:
Generation Speed Improvement ~2x.
Fixed Collada Export: - now exports the correct diffuse texture, transparency removed due to inconsistant interpretation. UV scales added to roads and sidewalks.